Upcoming Public Events:
Friends of Sironka – Maasai Tribal Cultural Performance
The "Friends of Sironka" perform traditional Maasai songs, dances and tell the stories of their lives together.  The Maasai are a pastoral people who live in the Great Rift Valley of East Africa.  As traditional cattle herders, their music, dance, stories and elaborate dress are integral parts of their cultural traditions.  All ages are very welcome!   Jambo!

Livermore Library Civic Center, 11th February 2015 
1188 S. Livermore Ave, Livermore.  Community rooms A&B.   
7:00 – 8:30 pm.   

Pleasanton Library, 14th February 2015
400 Old Bernal Avenue, Pleasanton, CA 94566 (925) 931-3400

Admission free: Suggested donation:  $10 – 15/adult, $5/child/senior, $25/family.
  – Donations for the group's home projects will be gratefully received –  

See events on Facebook:
Livermore Public Library: Wed. 11th Feb. 7pm
Pleasanton Library: Sat. 14th Feb. 1pm
Performance description

For the presentation at the Pleasanton Library, this group will do a dance and song presentation and give the community a chance to engage with the performance by asking questions about the Maasai Culture. The performance will share stories about their culture and how they are able to preserve their cultural practices in an ever changing and modernizing cultural setting.
Don't miss this! Cheza Nami is bringing the wonderful Maasai Sironka Dance Troupe to the East Bay for performances February 1-15. Nicholas Sironka, the lead artist, and the dance troupe are known as The Friends of Sironka Dance Troupe.  

Sironka has set up a Kenyan Art and Culture Center in Spokane, where the dancers are currently gearing up for their East Bay tour. Sironka's team consists of 9 male Maasai in full regalia and 1 woman.

They also sing incredible gospel music, do bead work and can do workshops on request (1/2 day or full day).
Book a program or workshop with Sironka African Dance!
The Importance of Cultural Diversity Programs in Communities
This is a unique opportunity for schools, libraries, or any municipality to contact Nicholas' Bay Area partner, Cheza Nami Foundation, Inc, and book a Nicholas Sironka African dance or art program.
  
Details of different workshops and performances.

Please contact Cheza Nami for further details.  


About Sironka - Giving back to Kenya
Nicholas Sironka is a Kenyan Maaasai and cultural ambassador.  His African dance and art programs have featured the Maasai culture and helped further cultural diversity in communities across the United States.   Nicholas received the prestigious Fulbright Award from the U.S. Department of State Bureau of Educational and Cultural Affairs for his work in preserving and promoting the Maasai culture.    His art and cultural workshops have created greater awareness of the Maasai culture and serve as a platform from which he advocates the preservation, understanding, and cohesion of people from all cultures.  

As a scholar in residence, he taught Batik art and Maasai Culture at Whitworth College – Spokane, Washington as well as countless elementary, high schools, colleges and Universities in other States around the country.

In 2001, he returned home and immediately embarked on a personal quest to uplift the living conditions of our people, the Maasai. He has since then returned to the United States of America as an artist in residence, and as leader of  The Friends of Sironka Dance Troupe over 15 times!

These tours with the dance troupe, and his solo art and Culture residencies have been the backbone of a campaign to sensitize Americans on the plight of our people – the Maasai.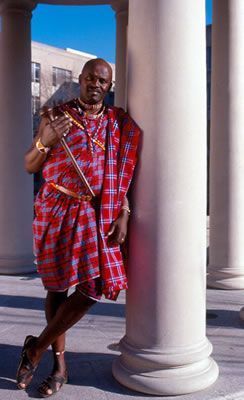 I have by God's grace been able to win the hearts of many Americans. Their compassion has helped through direct sponsorship of over fifty girls and boys to high school, and another eight to University! – Nicholas Sironka
With this support, Sironka has also been able to renovate a stalled maternity clinic, and dug two wells in the region.

Keep an eye on our Facebook Page for performance dates and venues!

Author: Donna Van Wyk
SEO Copywriter and Content Strategist at DigiGal Marketing